We didn't think anything could top the excitement of last month's MPA Award wins. However, during last week's Prolific North Awards at The Queen's Hotel in Leeds, we scooped up Best Small Agency Award, as well as a Highly Commended in the Best Not-for-Profit Category for our Bury Council COVID-19 Awareness Campaign.
The Prolific North Awards recognises the best campaigns, agencies and teams from the last 12 months, and celebrates the talent, innovation and drive that we have 'up North'.
This year's Best Small Agency category was the most competitive the Prolific North has ever run, with submissions from 30 regional agencies and 9 agencies shortlisted. Not only is it an honour to be nominated, to go on and win the award is humbling.  Of course, we couldn't do it without the opportunities we get from our clients, their partnership and collaboration, and the fantastic hard work from our team. To receive such high praise, is testament to all parties and the way we have worked together in the last year.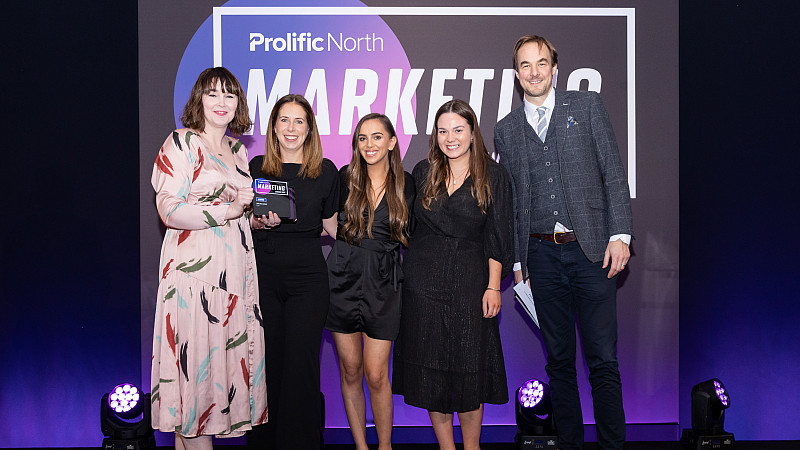 Managing Director, Christina Clarke, said "2021 hasn't been without its challenges but I am proud of how the team has come together to go above and beyond for our clients and each other. One of our greatest achievements this year has been the transition to an Employee Ownership Trust (EOT); a model which completely embodies our DNA and employee-focused philosophy. The EOT model ensures we remain true to our key values – consistently delivering the highest levels of client service and giving employees the opportunity to shape and define how we achieve that. Additionally, the team has been boosted by the recruitment of two key leadership roles, appointments that will be fundamental to building further success on top of the great foundation already existing. It will be exciting, over the next few years, to see how the company thrives under their direction and what the future holds for us!'
We were also thrilled to win a Highly Commended for our COVID-19 Awareness Campaign for Bury Council. The campaign reinforced COVID compliance across Bury, supported by a series of videos encouraging residentsget vaccinated, whilst also communicating clear messages regarding how to remain safe. Social media assets created, featured local Bury residents and businesses to increase authenticity and instil pride within the local community.
Strategy Manager, Jessica Holloway, said "We are delighted that the campaign has been recognised. To see such positive engagement across social media as well as locally across the borough, particularly within the climate, was heart-warming. The last 18 months has been tough and hit local, communities hard. It was lovely to be able to engage with residents on this campaign, giving them a platform to help support one another to reduce the rate of infection and keep each other going. A big thank you to Bury Council for the opportunity to work on this campaign and for their continued commitment to residents."
Thank you to the judges for choosing us and the Prolific North for an amazing evening! Congratulations to the other winners and everyone who was shortlisted; we'll hopefully see you again next year."