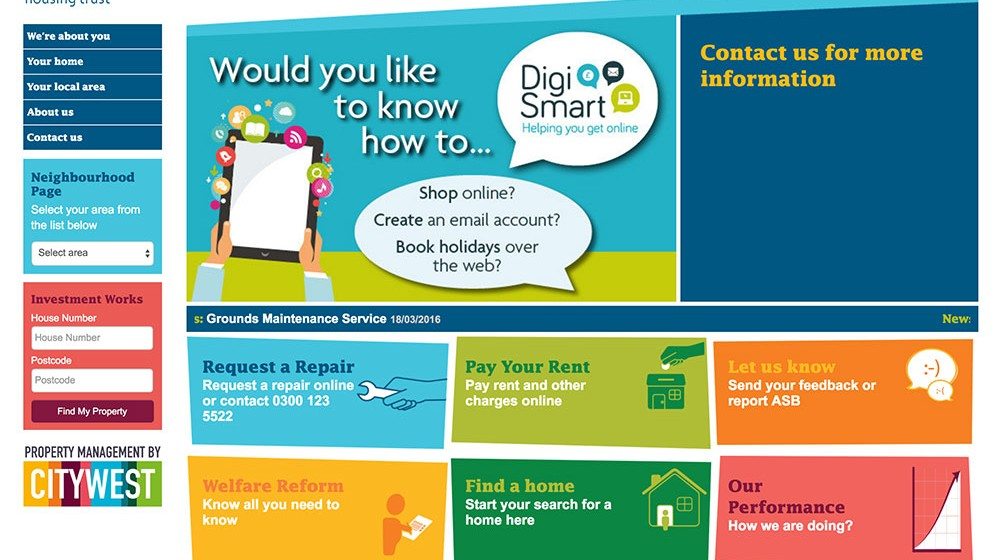 Website revamp for City West Housing Trust
Back in March, City West Housing Trust briefed C21 to revamp and upgrade their current website, with the brief to create a more user friendly and localised online tool for customers.
Our tasks included a redesign of the website homepage in order to include better signposting and the addition of social media links to promote Twitter and Facebook to City West's customer base.
In addition, the strategic development of a brand new 'Your local area' section of the website, has provided a much needed, and personalised resource tool for City West customers. Website users can now find out all information which is relevant to their area/home by performing a simple search based on house number and postcode or by neighbourhood area, for example what's going on, local news, useful City West contacts and community information.
The implementation of an automated process within the content management system and a controlled custom managed layout also ensures a user friendly back end database, which can now be updated by City West's neighbourhood officers on a daily basis, keeping content fresh and updated.
The development of this new and dynamic website area, together with a content restructure provides an intelligent information source for customers and will no doubt encourage repeat customer visits to the site.
The revamped pages are now live at http://www.citywesthousingtrust.org.uk/