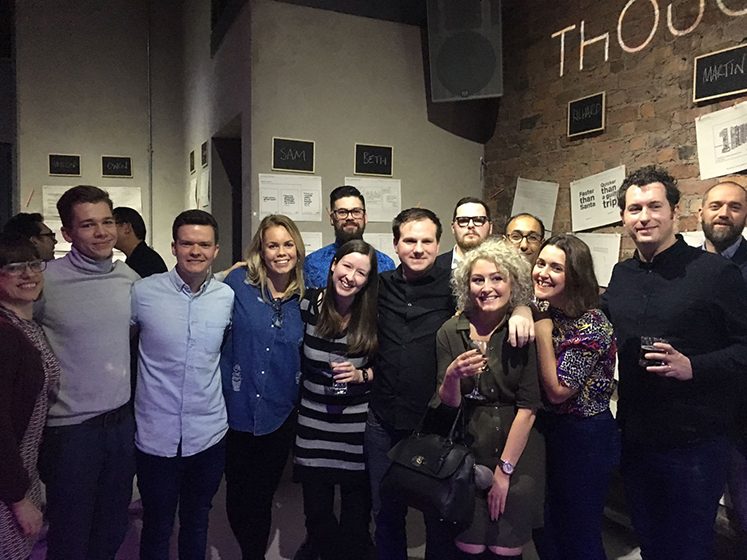 School of Thought is an intensive twelve week course and creative competition for people who want to learn to develop and pitch big ideas.
After twelve weeks of challenging briefs set by creative agencies around Manchester I have come out the other side with invaluable advice and words of wisdom from some top creatives, a greater understanding of our industry, eleven new friends and a trip to Cannes Lions 2017!
Every week, twelve of us were given three days to crack a brief and then pitch our ideas to creative directors and senior creatives, as well as our peers.
The number one rule is pen and paper only! No Mac-ing up and making it look pretty. They just want to see your big idea in its rawest form. And as we learned in week one, an idea is something you can explain – so the simpler the better!
I'll be honest – the thought of pitching and presenting my ideas filled me with dread at the beginning. To stand in front of all these people and tell them about an idea you have spent so much time stressing over and working on til daft-o'clock at night (my long-suffering boyfriend can vouch for that!)… What if it's rubbish? Will they laugh at me? Can they see my hands shaking?
But by the end of School of Thought, the Thursday night crit sessions were the highlight of my week! I loved seeing what everyone else had come up with and I looked forward to showing my work as well. I learned to be proud of my ideas, and have the confidence to present and defend them in front of some of Manchester's top creative folk!
In the final week of the course, we had to submit our favourite idea from each of the briefs we'd been set over the twelve weeks. As I sat there trying to decide which ideas to submit, surrounded by all of the work I'd done, I realised just how intense this process had been! I had probably come up with more ideas over twelve weeks than I had done in my whole career to date! All with the added pressure of only having three days to work on it whilst still doing my actual job here at C21!
School of Thought has encouraged me to really push myself and, most importantly, has taught me to think differently. It's a lesson that's never too late to learn in this industry, whether you're just starting out or you've been doing it for years.
School of Thought will be back in 2017, so keep an eye out for the next intake of students on their website and Twitter page. As they put it, the process is "fun, frantic and painful – and all at the same time". But I promise you, it's worth it!
Sam Carter