The Tumbleweed world is a purely organic place. It's a micro world of eco-composting and worm farming. It's a world of fun and practical solutions for the environmental issues of today and tomorrow.

Tumbleweed are a company that make a significant contribution to our earth's environmental sustainability by designing and manufacturing innovative products that encourage consumers of all ages to reduce, re-use and recycle organic waste.
With that in mind we designed a website that would communicate the brand values of Tumbleweed in a fun, informative and perfectly natural way.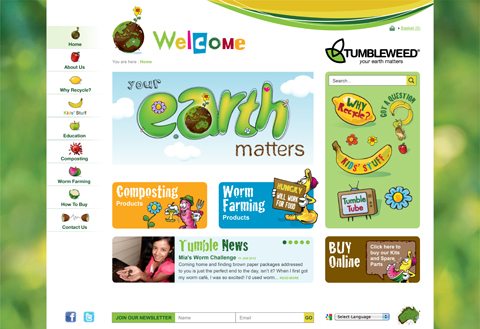 Recycling begins at home and right from the home page you know you are entering into a world that is in tune with the environment. We developed the Aussie, Tiger and Melony worm characters to help the user wriggle their way through the site and have kept the same friendly illustration style for the navigation bar and page headers, to ensure the site is user friendly. We had fun with fonts and gave the new website a fresh and a more organic feel. We learnt some amazing facts about worms too…did you know a worms favourite food is Melon?
We expanded on the 'Kids stuff' and 'Educational' sections of the site by creating Compostonaut, the space composter who fights the good fight for planet Earth against the evil General Waste. You can even help make one of Compostonaut's paper-mȃché Carrockets plus learn about the environment and many other out of this world things to do.
A gallery, videos, news and press updates and a Q&A with TV composting expert Angus Stewart all help to keep the site content fresh and users fully up-to-date.
50% of household waste is organic and can be recycled into your garden. Tumbleweed are a company that cares about the World we live in and we hope the website conveys this. The composting and worm farming products are great fun to use for kids and adults alike and help everyone put something back into our earth.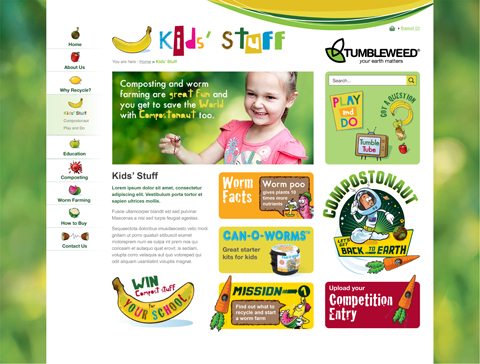 ….Because our Earth matters. We handed over designs to the Australian team for the site to be developed locally, however it is now live and you can check out the pages for yourself by following this link.