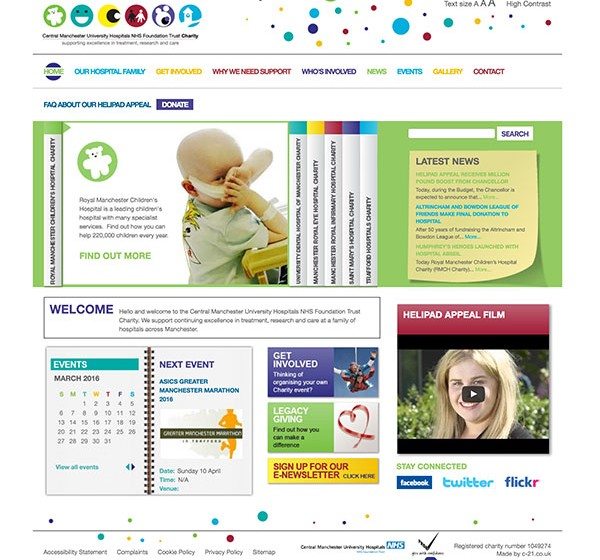 C21 launch new website for CMFT Charity
Following a two stage pitch process which started back in 2010, C21 have been the lucky Agency chosen by Central Manchester University Hospitals NHS Foundation Trust Charity (CMFT Charity) to design and develop their online presence – www.cmftcharity.org.uk.
CMFT Charity works hard to make a difficult time a little bit easier for both young and old within a family of hospitals:
Royal Manchester Children's Hospital Charity
University Dental Hospital of Manchester Charity
Manchester Royal Eye Hospital Charity
Manchester Royal Infirmary Charity
Saint Mary's Hospital Charity
Trafford Hospitals Charity
Although based in Manchester, the Charity provides services to people from all across the North West region and for some specialist services further afield. The general catchment area is as far north as Cumbria and as far south as Stoke.
Having worked closely with the Charity team for a number of years in order to establish a recognised brand and build awareness of the charity, C21 have a deep understanding of the organisation, their aims and objectives.
Following the pitch win we set about creating a dynamic, intuitive and vibrant design for the new website. The look and feel of the website needed to be fresh, friendly and approachable but at the same time reassuring.
It was also imperative that each hospital within the family was present and easily accessible via the homepage, and that each of the hospitals within the family received equal representation, using its own unique logo and colour palette.
Users land on the new website via a splash animation, created specifically to provide a friendly introduction and insight as to who the Charity are and what they do.
The animation is lively, dynamic and engages the friendliness and hands on approach of the Charity, whilst communicating the key aim – supporting continued excellence in treatment, care and research at a family of hospitals across Manchester.
When the homepage is revealed, users initially see a rolling banner which showcases each of the hospital Charities, revealing information specific to each Charity and acting as a one click way of directing users to the individual hospital charity pages which lay deeper within the site architecture.
A latest news feed and events calendar (both direct feeds from the website CMS) ensure that the
homepage is kept fresh, encouraging repeat visits and a prominent 'Donate' area encourages online giving.
Spotlight promotional areas encourage users to 'Get involved' and to delve deeper into the site whilst a simple sign up to e-newsletter, alongside a Charity video placeholder and social media links all encourage interaction.
Julie-Anne Weaver, Press Officer for the Charity said:
"We are delighted with our new website which is bright and clean and has varying levels of functionality; fulfilling the brief that we gave to C21. C21 has given us great design, fantastic service throughout the build and most importantly, they have given us the tools to continue to develop our website and keep our supporters updated at very low cost."
The new site is such an important, integral and valuable tool which will enable the Charity team to engage and communicate with varying audiences (in varying locations) including current supporters, patients and staff as well as helping to attract new supporters and communicate key messages online.
The website has been built using the Drupal Content Management System (CMS) which is intuitive and truly extensible, providing a solid platform which can be developed, growing with the Charity as they grow, over the coming years.
For more information visit www.cmftcharity.org.uk