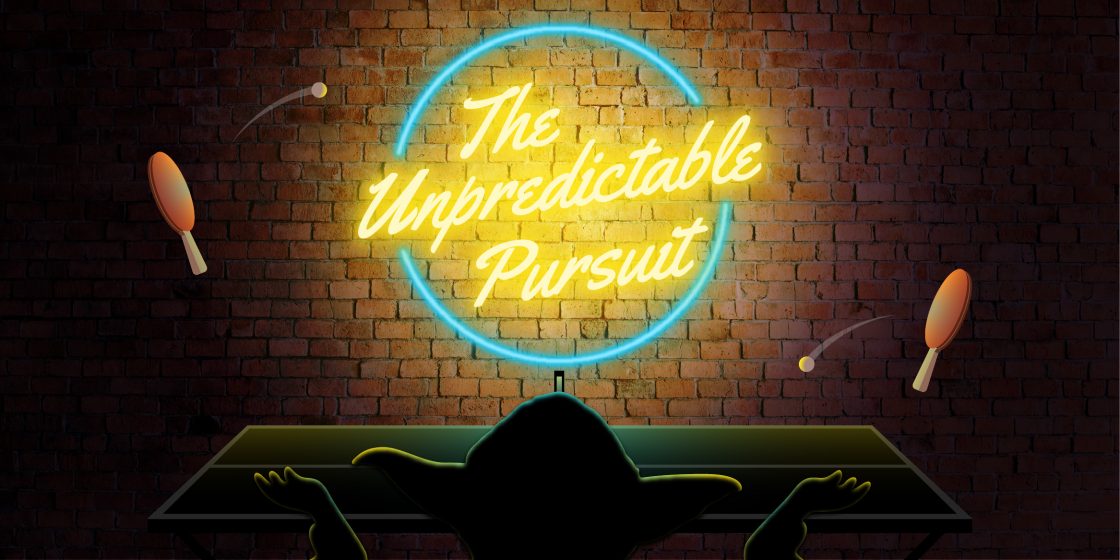 Creativity – The Unpredictable Pursuit
Do I think about success when creating ideas — I don't think so? I think about the pursuit of the idea. Hopefully success comes later.
The creative process is like a game of ping pong with a wonky ball, it bounces on the table and it can go anywhere — it's unpredictable. It's like random logic meets Yoda in a Karaoke bar. It's a crazy thought, but it just might help get the big idea. Ideas play games with your head. Some are slippery critters that hide around corners. Some are big and bold and jump out at you from behind doors. Then there's the little shy ones that don't like to be found. I thought it was a good idea to sneak up on one once, but it turned out to be a bad idea — yes, bad ideas do exist, contrary to popular belief.
A copywriter once told me, your first idea is always the best. And sometimes that's true. It's either the one the client chooses or it's so out there that even the bravest client wouldn't dare to use it. But you still try and think of another, in this game one is never enough. So why think of a second or a third? Because out there somewhere you know there's an even better one. It's the 'smile in the mind' you've been craving for. A little gem hiding in some corner of England — the one that gives you the ping moment. That's the one that makes all that perspiration turn to inspiration.
Occasionally you have the odd mountain to climb. A big lump of rock blocking your way. You can't go over it, you can't go around it — but with a little trickery and determination you can go through it. The sheer power of ideas can ignite change and even crumble nations, never mind mountains. But you can't plan for that idea to grow arms and legs, it just happens organically. The Old spice ads going viral 49.5M views on You Tube, Dumb Ways to Die 92.9M and to top it all Gangnam style with 2 Billion views. Nobody planned for that one.
You can't create a road map or a timeline or plan for that split second of inspiration, sometimes a great idea just happens when you least expect it. But you can structure your way of thinking with some simple tricks to help persuade the idea to willingly turn its self in. You have to trust your instincts, it's as basic as that sometimes. All the research in the world usually boils down to the same thing — your gut feeling was right in the first place.
Audi would never have used the line Vorsprung durch Technik if they had listened to research. The research said Nein, it sounds too German for the British market. Audi said Ja, the rest is history. That campaign was of course spearheaded by the great John Hegarty.
Which reminds me of one of his inspirational quotes for you aspiring creative directors:
"The unpredictability is what makes what we do in advertising so exciting – you literally don't know where you're going to end up. Creativity isn't about predictability – it has to surprise and challenge, it has to be daring and yet motivating."
They say fail to prepare, prepare to fail. But sometimes you just have to take the stabilisers off and freewheel down the big hill of imagination with no brakes. Go off-piste, test new ground. Imagine the unimaginable, create the uncreatable. Be like Icarus — fly too close to the sun. Fail, because failure is the future of success. Or as a colleague repeatedly tells me 'A man who never made a mistake, never made anything'.
So, in reality, I don't think for success, my mindset is focused on the idea. Without it, you're doomed to failure anyway